About
This project is dedicated to Israel's creative artists. I am new here and impressed with the variety and quantity of public art, and with the lack of information about it. This is my attempt to contribute.
You are invited to fill in missing, or incorrect, information, including artist's names, titles, locations, references, or point out typos and glitches. And on the positive side, comments or suggestions are welcome.
I live in Tel Aviv. You may be able to identify the neighborhood by the geographic distribution of the list. I travel mostly by foot and on each outing find more, mostly sculpture, to add. I've delayed uploading the list because each day I find more that ought to be included, but, clearly, it won't ever be complete.
---
Definitions:
"Public" means that no restrictions are imposed or admission charged. Most items are out-of-doors, but could be inside. Usually, they are in prominent locations and easy to find.
"Art" requires a considerable degree of creativity, often reaching beyond one's area of comfort and involving challenges and risk of failure. It requires courage to put something out there, forever (whatever that means) for everyone to see, and criticize. When the risk is eliminated the result is just decoration.
The best art creates a response in viewers. Sometimes it provokes emotion or thought, but I am not judging quality. If the work is finished, installed and I find it, then I include it. This is more a catalog than accreditation.
Inscribed monuments are important, but not included. Relief sculpture on a monument will be included because of the aesthetic judgment they require.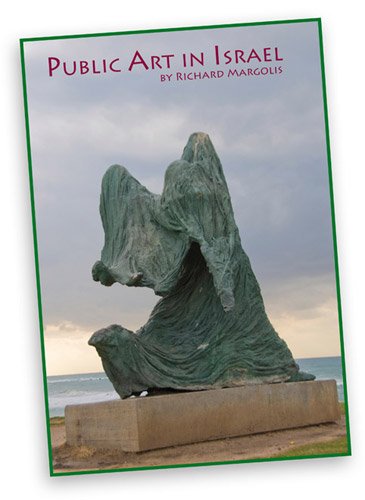 ---
The future of the project
I plan to add new items to the catalog and correct mistakes;
I am considering a map to better identify locations;
I may create walking tours (that could be downloaded and printed) for areas with high concentrations of public art;
and I am interested in a Hebrew language version but that would require a sponsor or assistance.
Financial contributions to expand the project are welcome.
—Richard Margolis March 25, 2010 at 16:27
---
About the Photographer
Richard Margolis normally lives in Rochester, New York, the "Center of Photography." He will be in Tel Aviv working on projects for the next year or so. IsraelPublicArt.com will eventually include as much information about each item, sculpture, mural, installation, or other artwork that can be called "Public Art" as can be identified. Your help, or contributions, will be appreciated. Please use the contact form to contribute or comment.
_____________________________
Richard Margolis
Art + Architectural Photography
250 North Goodman Street
Rochester, New York 14607
USA
_____________________________